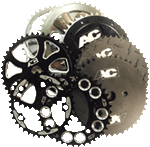 AC single speed rings are 100% CNC machined out of solid 6061 T6 alloy plate that guarantees they spin flat and true.
Holeshot - these chainrings (below) are our MTB single speed chainrings for downhill and dual slalom racing. 5mm thick and 100% true....available in sizes from 36T to 50T. 110mm rings that that use a 5 finger spider to attach to the crankarms. These can be used with a spider to fit both CrMo and alloy cranks.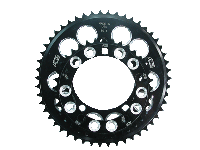 Our MagDHRing (below) is a lightweight but strong ring that grabs attention as you rocket down the course with your CrMo cranks. No spider required. 5mm thick to withstand the hits you might take along the way. Available in sizes 39 - 46T.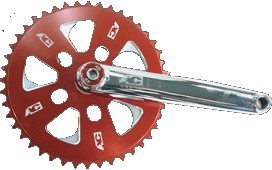 Triple Chain Rings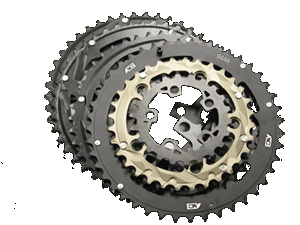 * 100% precision CNC Machined triple rings
* 7075-T6 alloy large and middle rings
* ramped and pinned
* computer designed ramps for smooth shifts
* 4 arm and 5 arm rings
104/64 BCD
110/74 BCD
94/58 BCD
Chain Ring Bolts

AC alloy Chainring bolts in 6.5mm, 8.5mm, 10mm, and 13mm
Also available in Stainless Steel.