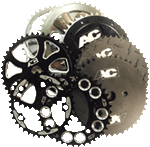 AC rings are 100% CNC machined out of 6061 T6 alloy plate. We make many different models for the track and the trail..these are several examples:
Miniholeshot - these chainrings are derived from our MTB Holeshot single speed chainrings for downhill and dual slalom racing. MTB rings are 5mm thick and 100% true...available in sizes from 36T to 50T.
Our Miniholeshot chainrings are lighter, 3mm 110mm rings that attach to the crankarms with either 5 arms fingers ( on the crank) or a 5 finger spider. Weight varies between 4 and 7 oz depending upon size.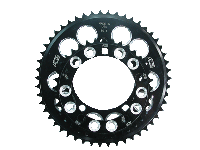 AC/DC BMX race sprocket - ( below) 5mm thick ( 4 - 7 oz) sprocket designed for CrMo cranks. One bolt attachment...24mm opening...fits oversize 24mm spindles and comes with spacer to fit smaller spindles. Sizes 36-46T even and odd sizes.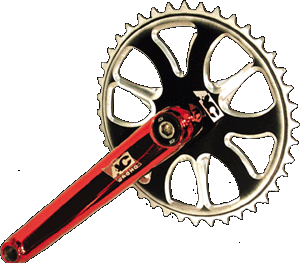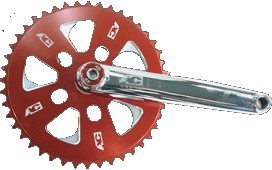 Our MAGRaceRing (above)
is a lightweight ( 4- 7 oz.) 5mm CrMo crank race ring with stainless steel bolt ring inserts to diminish wear. Available in sizes 39 -46T.
Our MagTrailRing is 10mm thick and CNC carved for the trail or serious pro level racing. It also has a stainless steel crank bolt insert. Available in 43, 44, and 45T sizes...it goes perfectly with our ProTC cranks....try a setup out today!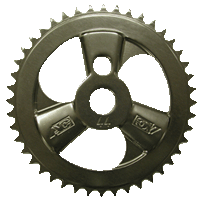 Our Street sprockets - Grinder1 or Grinder2- are also 10mm machined plates designed for diehard riding and whatever other trouble you try to get into. Available in 43, 44, and 45T
Grinder2