Our AC Bottom brackets are designed with precision cartridge bearings.
Our BMX Euro Bottom brackets - so called because they fit in the smaller bottom bracket shells of traditional road and mountain bikes - are available with either CrMo or titanium spindles, and 48T spline or square taper.
Our square taper Euro BB sets ( below) are typically used for alloy crank arms. They are available in 108,110mm, 113mm, 116 and 122 mm spindle widths.

CrMo Square Taper BB
Our 48T spline Euro BB sets ( pictured below) are used with CrMo crank arms.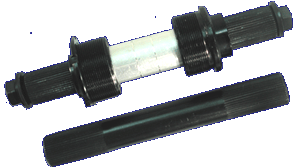 Euro 48T Spline CrMo BB

48T Spline Titanium spindle
Our standard BMX bottom bracket is 48T spline designed for CrMo cranks. It is available in 140mm spindle width . It also comes in two styles/ diameters: a solid CrMo or titanium 19MM ( 3/4") for racing, and a larger, hollow 22mm( 7/8") CrMo spindle for trail/ ramp.
19mm 48T Spline BB